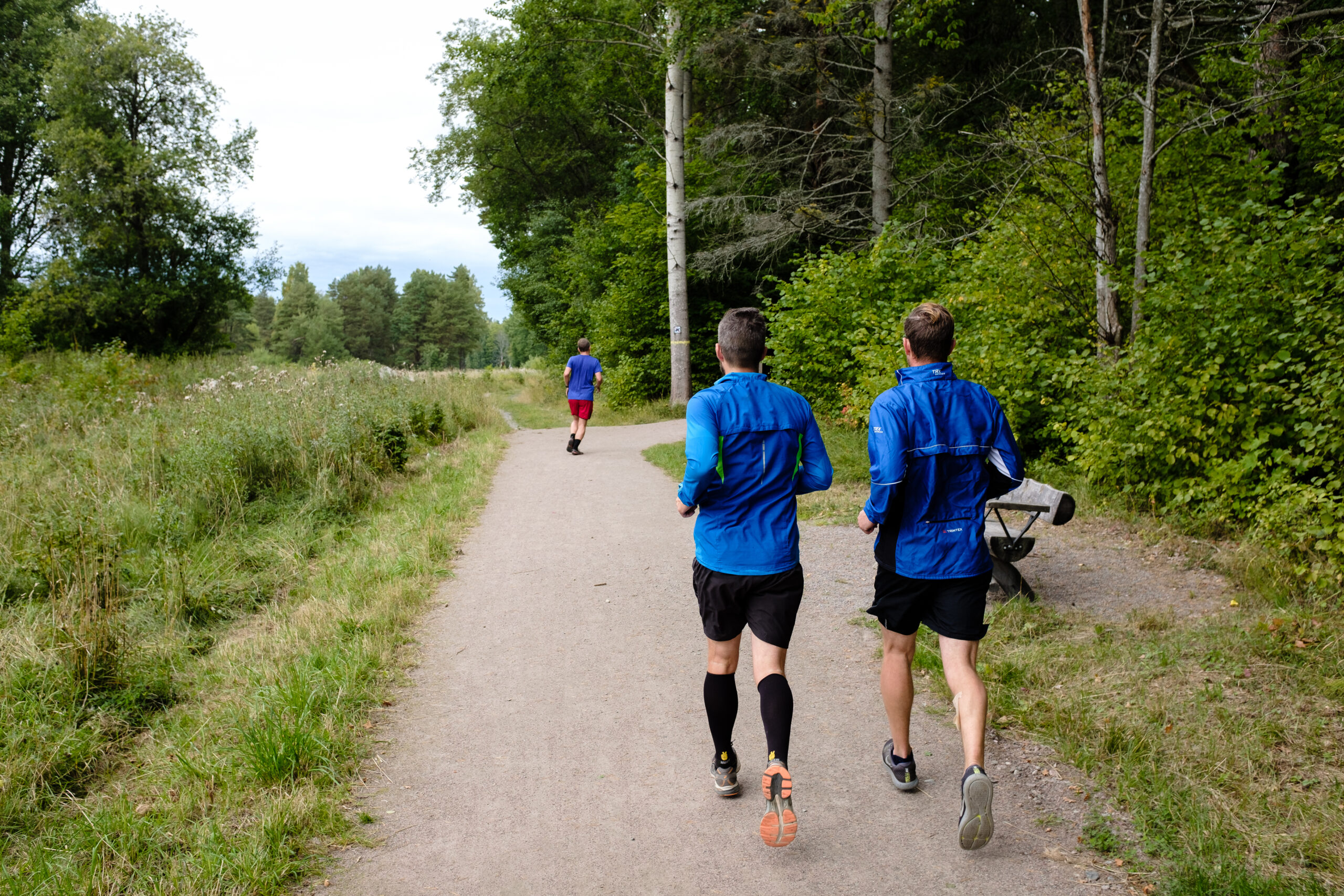 RELAY
What could be better than running a marathon together? Uppsala Marathon, Uppsala's own marathon, can be run both by yourself and as a relay. Forming a relay team is a good opportunity for workplaces, families and groups of friends. After the race, a finisher's jersey and a specially designed medal awaits you. In the finish area, the runners are offered food and non-alcoholic drinks and there will be an award ceremony and music.
Anmälningsavgift till stafett:
1200 kronor (4 deltagare). Samtliga i laget får en medalj och finishertröja.
Info om växlingsstationerna och etappernas längd:
Det kommer att finnas tre växlingsstationer. En växlingsstation finns på slottet där löpare 1 och 3 startar. Den andra växlingsstationen finns vid Sunnerstastugan och växlingsstation fyra finns vid Gamla Uppsala museum.
Längder för varje etapp:
Löpare nr. 1 (etapp 1) springer ungefär 12,5 km. Från slottet till Sunnerstastugan.
Löpare nr. 2 (etapp 2) springer ungefär 8,5 km. Från Sunnerstastugan till slottet.
Löpare nr. 3 (etapp 3) springer ungefär 10,7 km. Från slottet till Högarna i Gamla Uppsala.
Löpare nr. 4 (etapp 4) springer ungefär 10,3 km. Från Gamla Uppsala till slottet.
Bib number
The relay teams get a team number, all runners in the team have the same number. In addition, there are numbers 1 to 4 to be worn by the runners in the following order: The first runner in the relay team shall wear number 1, the second number 2, etc. Timekeeping is done using a computer chip that is attached to the top of a tab of the number tag. The number tag should be attached to the chest and be fully visible throughout the race. Avoid having your hands/arms in front of the top of the number tag when crossing the start and finish line.
The start
The start is at 9:30 a.m. for marathon and marathon relay. The start time for the half marathon is 11:00. Pick up your number tag by 9 a.m. Runners are advised to be in place at the starting line no later than 30 minutes before the start. Before the start, joint heating is offered.