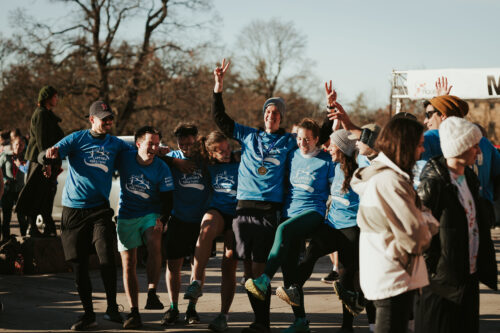 RELAY
What could be better than running a marathon together? Uppsala Marathon can be run both by yourself and as a relay. Forming a relay team is a good opportunity for workplaces, families and groups of friends. After the race, a finisher's jersey and a specially designed medal awaits you. In the finish area, the runners are offered food and non-alcoholic drinks and there will be an award ceremony and music.
Entry fee
1600 SEK (4 participants)
Relay sections
Section 1 : approx 10 km – From the Uppsala Castle to Skarholmen
Section 2 : approx 11 km – From Skarholmen to Nordic Wellness at Studenternas
Section 3 : approx 12 km – From Nordic Wellness at Studenternas to Gamla Uppsala
Section 4 : approx 9 km – From Gamla Uppsala to Uppsala Castle
Relay switch
The runner which has finished a section should run through the timing portal and switch to the teams next runner after the portal. The runner waiting for their teammate should not be closer than 5 meters to the portal.
Bib number
The relay teams get a team number, all runners in the team have the same number. In addition, there are numbers 1 to 4 to be worn by the runners in their running order. Timekeeping is done with a chip in the bib number. The bib number should be attached to the chest and be fully visible throughout the race.